Other Services

F&M Bank provides many different savings and spending options so you can invest your money how works best for you and have access to it when needed.
Fee Schedules
Fee Schedule Accounts
Charges for Products and Services Effective August 24, 2022.
Personal Checking Accounts
Account

Fees

Smart Free Checking

None

50+ Interest Checking

None

VIP Interest Checking

$8 per statement cycle

VIP Platinum Checking

$12 per statement cycle

Choice Interest Checking

$8 per statement cycle

Maintenance fee can be avoided if a minimum daily balance of $2,500 or more is maintained.
Savings and Investment Accounts
Account

Fees

Smart Savings

$2 for each withdrawal/transfer over 6 per month

Youth Savings

$2 for each withdrawal/transfer over 6 per month

Certificates of Deposit

Penalty for early withdrawal equals 180 days interest on the outstanding principal balance.

On CDs 6-12 months, penalty equals 90 days interest on the outstanding balance.

On 3 month CDs, penalty equals 30 days interest on the outstanding balance.

Choice Money Market Accounts

$12 per statement cycle

Maintenance fee can be avoided if a minimum daily balance of $2,500 or more is maintained.

$2 will be assessed for each withdrawal/transfer over 6 per statement cycle.

Health Savings Account

$25 Setup Fee
Business Checking Account Services
Service

Fees

ACH

Same Day ACH Credit File - 5 cents per credit entry

Unauthorized ACH Return - $4.50 per return

Remote Deposit Capture

$100 annual scanner fee

$30 monthly service fee
Miscellaneous
Miscellaneous

Fees

ATM Transactions

(Balance Inquiry, Withdrawal, Transfer* and Declined Transaction)

None with use of F&M ATMs

$2.50 (F&M VISA Travel Card at Domestic or Foreign ATMs)

ATM Surcharge Fees will be refunded up to $20 per statement cycle.

*Transfer does not apply to F&M VISA Travel Cards

Non-Sufficient Fund Paid Item/Overdraft

$18 per item paid (first time presented and re-presentment)

($90.00 maximum charge per business day)

Non-Sufficient Fund Returned Item

$18 per item returned (first time presented and re-presentment)

(90.00 maximum charge per business day)

Continued Overdraft Fee

$3.50 per business day account balance is negative

(Charge stops after 35 consecutive days overdrawn)

Overdraft Protection Transfer Fee

$0 per transfer

Stop Payment/Stop Payment Renewal

$18 per item

Returned Deposited Item

$6 per item

Re-run Returned Deposited Item

$3 per item

Wire Transfers

$20 for domestic (outgoing)

$50 for international (outgoing)

Account Balancing Assistance

$20 per hour

Account Activity Re-prints (Statements/Checks/Deposits)

$5 per complete statement

$1 per interim statement

$1 per item copied

Online & Mobile Banking with Bill Pay

Online Banking - Rush Payment

$19.95 - Check payment next business day

$14.95 - Check payment second business day

$4.95 - ACH payment second business day

Account Closing Fees

$25 for account closed within 90 days of opening

Dormant Account Fee (Checking & Savings)

$5.00 monthly

Fee is charged after 12 months of No Activity

(Choice Money Market Accounts excluded)

Garnishments/Tax Levys

$50 per occurrence

Check Collection

$25 per item

Cashiers Checks (Customers Only)

$7.50

Money Orders

$5.00

Visa Gift Card

$5.00

Visa Travel Money

$9.95
($6.00 F&M Service Fee and $3.95 Harland Clarke Fee; $2.50 ATM Service Charge)

Night Deposit Bag with Lock & Key

$20 per bag

ATM/Checkcard Replacement

$15

$60 - Rush Order (3-4 business days from order date)

Safe Deposit Box Fees

$150 Drill Safe Deposit Box

$50 Replace Deposit Box Key

Annual Fees: $23 / $25 / $35 / $45 / $55 / $65

Contact an F&M Customer Service Representative for Box Sizes and Rental Fees

Photocopies

$1.00 per copy

Check-by-Phone

$15.00 per payment
** Return Item for Non-sufficient Funds. Re-presentment items are debit items previously returned to the payee due to non-sufficient funds. Pursuant to NACHA Operating Rules and other applicable laws, a debit or item may be presented for payment more than one time. We may charge you non-sufficient fund fees for each resubmission of a debit or representation of an item, which means you may incur multiple non-sufficient fund fees if a debit or item is returned more than one time.
Debit Card
The F&M Bank Debit Card services are supported by Visa®. This allows you to make a simple swipe of your F&M Visa® Debit Card instead of writing checks or using cash...anywhere Visa® is accepted.
Card Features
Visa® Debit Card
Make a simple swipe of your F&M VISA® Debit Card instead of writing checks or using cash... anywhere VISA® is accepted you have access to your checking account.
If you're currently using your VISA® Debit Card for ATM cash withdrawals and deposits only, you're missing out on the many benefits of using it for point of sale purchases!
Use Your VISA® Debit Card Like Cash Because:
It's easier than writing a check
There's no approval process at the time of purchase
It's more convenient to carry than checks
You save money by not having to reorder checks as often
You have no fee for using it at most stores. View Fees
You can have a daily point of sale limit up to $2,500
Your daily ATM withdrawal limit is $700
Want to Raise Your Limit ... Planning a vacation? Looking to purchase new appliances for your home or redecorating? Ask an F&M Bank representative today about raising your daily point of sale limit or ATM withdrawal limit if applicable.
Benefits Included with any F&M Visa® Debit Card
All F&M Visa® Debit Cards come with access to these great benefits. Be sure to register your card with these providers to take advantage of all the valuable benefits below:
CardValet
CardValet® helps you manage your finances by controlling how, when and where cards are used through your mobile device.
CardValet lets you:
Turn your debit card on and off
Establish transaction controls for dollar amount limits, merchant categories and geographic locations
Receive alerts when your debit card is used, approved or exceeds the transaction controls set by you
Stay informed of potential fraud with alerts on attempted, declined transactions
Get real-time balances for your accounts
Download the mobile app that lets you control debit card usage and spending on the go! Learn more at CardValet.com
Benefits of CardValet:
Control Spending

If you're trying to establish or stick to a budget, CardValet® can help. Set spending limits for general use or specify thresholds by merchant types, such as gas, groceries or retail stores. You can also establish these controls by location. The flexible app lets you change these parameters anytime with ease via your mobile device. Going on vacation? Holiday shopping? Simply update your transaction controls to fit your spending needs.

Fraud Protection

A lost or stolen card is just one area of concern in today's world where Identity theft, skimming and other attacks are an unfortunate reality. Turning your debit card off when you're not using it helps safeguard against fraud. When your card is "off," no withdrawals or purchases will be approved. Transaction controls that allow your debit card to work only in specific locations or geographic areas, add another layer of protection. And real-time alerts keep you informed when your card is used or declined.

Business Use

CardValet is a great tool for controlling business spending on a debit card. Use the transaction controls for merchant codes, location and thresholds to ensure employee spending adheres to your company policies.

Review Balances and Transactions

Monitor your finances from anywhere. Use the CardValet app to check your account balances.
CardValet is a registered trademark of Fiserv, Inc. or its affiliates.
uChoose Rewards®
EARN DOUBLE POINTS NOVEMBER 1 - DECEMBER 31!
Earn points towards merchandise, travel or cash for the purchases you make!
Take advantage of our F&M debit card rewards program!
uChoose Rewards® delivers more reward choices than ever! Choices such as … electronics, merchandise, travel options, restaurant and merchant gift cards, cash back, coupons and more!
How Does it Work?
First, you must register your F&M debit card(s) for uChoose Rewards program.
Next, make a purchase with your F&M debit card and start earning uChoose Rewards Points.

Earn 1 point per $2 spent on all transactions with your F&M Bank VISA® debit card

Finally, redeem your points for the uChoose Reward of your choice.
Everything you need, from registration to redemption, will be available on uChooseRewards.com
Earn even MORE points when you shop at participating retailers through www.uChooseRewards.com.
Find a complete list of in-store and online-only retailers, and an access search tool. Don't forget to search for local merchants.
Select from a full online catalog of redemption options.
Create a "Wish List" to track the items you really want.
Receive smart shopping advice to help you spend your points wisely … and much more!
Need more information? Stop by your local F&M office or call Customer Service 800-645-4199 (931-645-2400 for Clarksville - Montgomery County, TN residents).
Mobile Wallet
Your Wallet Just Got Smarter
PURCHASING HAS NEVER BEEN EASIER.
Now you can use Apple Pay™, Google Pay™ or Samsung Pay™ with your F&M Visa® Debit Card to pay quickly and conveniently at checkout in stores, online and for in-app purchases.
| | | | | |
| --- | --- | --- | --- | --- |
| | | | | |
| FAST | | CONVENIENT | | SECURE |
| No more fumbling and forgetting your card - your mobile wallet is ready to use. | | Mobile wallet payments are accepted at a growing number of merchants, in apps and online. | | Your card number is never exposed to merchants, keeping your transactions safe. |
GETTING STARTED IS EASY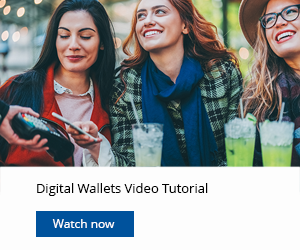 Simply choose your preferred mobile wallet and get started today.
APPLE PAY™ GOOGLE PAY™ SAMSUNG PAY™
Apple Pay is a trademark of Apple Inc., registered in the U. S. and other countries. Google Pay is a trademark of Google LLC. Samsung Pay is a registered trademark of Samsung Electronics Co., Ltd. Third party message and data rates may apply.
Other Services
F&M Bank offers many types of products and services to fulfill your personal banking needs. With various checking, spending, and savings accounts, we have the options you need for full-service banking.
Products & Services
Direct Deposit
Why bother standing in line to cash or deposit your payroll, Social Security, or retirement check? Instead, have them electronically deposited directly into your F&M Bank account so funds are immediately available for withdrawals, loan payments, and other transactions.
Electronic payments make it easier for you and your employer each time you get paid. There is no transfer fee for you to get paid with direct deposit. Depending on how you file your taxes, it is also possible to get tax refunds deposited directly in a checking or savings account.
Business Credit Card
Choose from our popular business credit card options such as low rate, cash back or flexible rewards to find the one that works best for your business.
Consumer Credit Card
Whether you want to pay down balances faster, maximize cash back, earn rewards or begin building your credit history, we have the ideal card for you!
Visa Gift Card
Gift cards are the only gift that's guaranteed to please. They're welcome anywhere Visa® debit cards are accepted. You choose the amount. We load the cards in seconds. The recipient can choose where to go and what to buy. It's that easy! (Purchase fee of $5).
Visa TravelMoney®
Your TravelMoney Card is a prepaid reloadable Visa® debit card which offers you a safe and convenient alternative to traveler's checks and cash. It is a simple and smart way to carry, use, and budget your travel funds. The TravelMoney Card works just like a Visa debit card allowing signature and POS purchases as well as ATM access.
You can reload your Visa TravelMoney Card with additional funds and continue to use it at any merchant worldwide that accepts Visa debit. Whether your travel takes you abroad or close to home you can experience the safety and convenience of your Visa TravelMoney Card. (Purchase fee of $9.95)
Overdrafts
It is the policy of F&M Bank to comply with applicable laws and regulations and to conduct business in accordance with applicable safety and soundness standards. We cover a transaction and pay overdrafts at our discretion, which means we do not guarantee that we will always authorize and pay any type of transaction.
We can cover your overdrafts in two different ways: 1) We have standard overdraft practices that come with your account; and 2) We offer overdraft protection plans: Savings Account Link and Cash Reserve Line of Credit). If you are ever unsure if you have sufficient funds, you can check your balance on your phone before an overdraft occurs.